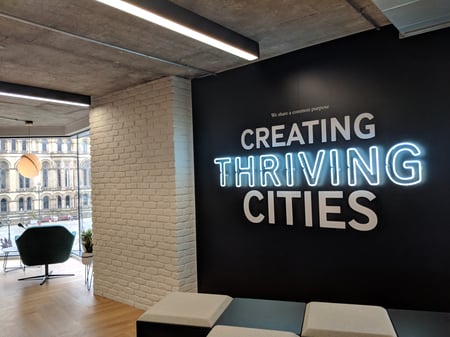 Is a successful past a good indicator of a successful future? It's a better place to start from, for sure, but only if you use it to create a platform for new opportunities. Bruntwood is a leading property management company across the North and Midlands. With 3,000 customers and more than 50,000 people working in their spaces, the family owned business is growing rapidly and is already behind a third of the office space in Manchester. Demonstrating sustainable turnover, profit and asset growth through three recessions is a significant achievement. So what's the key to their progress and durability?
Bruntwood's CEO is Chris Oglesby, whose role as a key member of the Northern Powerhouse Partnership is acknowledged by making top three in this year's Insider North West Power 100. "We're a purpose-led organisation and what Bruntwood is about is creating thriving cities - we see ourselves as a catalyst for growth." Yet Chris also admits that it's not too long ago that a shift in business strategy caused the company to review how it was working . The scale of that shift accelerated when the large Alderley Park site was acquired from AstraZeneca in 2014. Bringing an added degree of risk and complexity, it brought a need to re-clarify organisational purpose and strategy. "There were elements of the organisational culture that were more traditional paternalistic and hierarchical," said Chris. "It became apparent that there were opportunities for leadership development."
It was in 2015 that Chris invited RISE to partner with Bruntwood. The objective? To support the organisation and help develop their competitive advantage in the face of rapidly changing markets. From an initial CEO team workshop, an executive retreat and conflict mediation support, emerged a more systemic initiative. Critically there was recognition that the company's leadership and culture needed to support a more collaborative approach. "We learned there was a desire and a need for more support for individuals" said Chris, "and we needed to improve trust across our top team."
The collaborative focus reinforced a need to rebalance the regions - giving a more prominent regional voice to Birmingham, Leeds and Liverpool within the organisation. Collaborative cultures operate as a 'team of teams', allowing resources and energy to be focused where they can have most impact. This approach was to enable Bruntwood to become more agile and adaptable. It was also imperative that the senior leadership group regularly hold high quality conversations to develop critical awareness and trust. This is where value is often created or destroyed: good teams consistently apply and receive constructive criticism and hold themselves to account.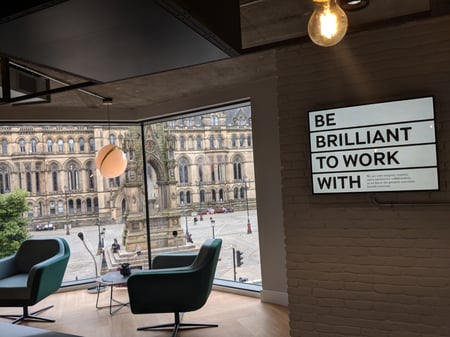 The collaboration framework utilised by RISE saw the launch and facilitation of accelerator programmes for groups of 6-7 senior managers, reaching 10% of employees over 12 months and a further 15% in year two. In an experimental environment, key collaborative habits and practices were developed through 'action research' and themes like coaching, conflict and team effectiveness were explored. The groups' diversity helped create trust, increased transparency and developed leadership capacity.
But how do you shift a culture to one that's more participatory, where senior people feel empowered to act? RISE helped design and facilitate leadership retreats aimed at the top 35-60 people on a 6 to 9 month cycle. "More people engaged in developing strategy means greater transparency, ownership and responsibility" according to Simon Preston of RISE. Providing guidance and support to Chris Oglesby on governance enabled a more effective executive board to take shape. In September 2017 the launch of nine mixed Peer Learning Groups allowed employees critical reflection on personal or professional challenges. A key stakeholders group continues to meet, including RISE consultants, ensuring communication is taking place and people continue to feel involved. Over time the entire group has been brought into the conversation.
RISE understands the importance of evaluating impact. From assessment of visible signs of change, what's emerging is a clear sense of an improved cross-region, cross-function professional community. Evidence shows people are thinking more about what they do and why - the product of holding higher quality conversations. Regular pulse surveys show significantly increased scores for trust and the sense of empowerment to act. Equally encouraging are big improvements in the groups' ability to learn from experience and make decisions and their sense of transparency of information.
How does Simon Preston see their work so far? "There's no doubt that our partnership has significantly improved the ability to hold higher quality conversations, learn better and faster from experience, and develop more agile and adaptable teams. It's been underpinned, of course, by RISE's clearly defined collaboration framework." And from a Bruntwood perspective, what does Chris Oglesby feel the alliance has delivered? "Firstly, we had to reposition the deep-rooted habits of a traditional family business, let go of what wasn't working for us and embracing what could be, whilst maintaining the core values and positive attributes of our culture. Secondly, I believe we now have the organisational capability to better fulfil our purpose of 'creating thriving cities'."
Bruntwood's success means it can play an even bigger part in helping communities thrive - socially and culturally. Every year Bruntwood and the Oglesby family shareholders donate a figure in excess of 10% of profits to arts, charity, environmental and medical initiatives. Furthermore their involvement in delivery brings lasting connections. With strong core values at the heart of the brand, such commitment to the cities where they work and a willingness to face challenges and embrace change, Bruntwood seem set to continue to thrive.