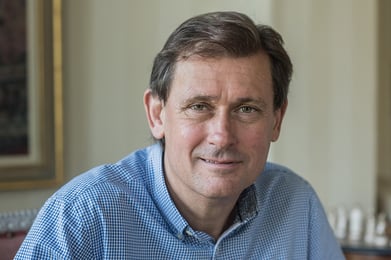 What do you really enjoy about your work that you'd like to share with others?
In its simplest expression, I enjoy being helpful to people and drawing on my own life experience to provide that help. I feel I am at my best in my work when I am being challenged to engage with complex challenges. Through working in partnership with others, both colleagues and clients, I enjoy learning from past experiences to figure out a next best way forward to key challenges. I believe it is this pattern of iteration and how good we are at it, which enables us to make some progress on the issues we face in our work and private lives. I feel this is what I seek to do both with clients and in my founder leadership role in RISE.
What has been your biggest learning experience in the past few years that has shaped the way you approach your work?

Something I am constantly working on is developing my own habits and practices of reflection and reflexivity. Of course, the even trickier process is how this happens within the groups that I work with, both internally and externally with clients. I think how I can do this more effectively, and support others in the process is key to leading in complexity.
The RISE challenge is in part, to grow a professional community which enables us individually and collectively to develop and deepen the habits and practices which enable excellence in our professional practice. By doing so we are co-creating the capability, the 'elixir' which our clients are seeking (often unconsciously) and therefore we will, bit by bit, become amongst the best consultancies for clients to partner with in their challenge of leading in complexity.
My main learning here is that this a long journey, with no destination other than the quest to learn and improve. As we progress on this journey it is my belief that RISE will increasingly become the place where wise consultants wish to come.
What got you interested in this work, what continues to motivate you, and what do you wish you had known earlier?
Being curious about people's behaviour in organisations is a longstanding interest of mine. When I was 24 I nearly left my graduate job at Shell to undertake a PhD in the politics of management yet could not persuade Shell to part-fund it! More specifically to RISE, after being on the global board of YPO.org 2007-2011, I observed that a minority of the YPO community of global CEO's seemed to look at global diversity and complex challenges in a similar way. They were not fearful of diversity nor were they naive about its challenge; they had what I called a 'beyond beliefs and borders' mindset, a lens of awareness or consciousness that seemed to enable them to collaborate on complex challenges across global diversity more effectively. My instinct was that our world needs more of this mindset and that's what set me off on this RISE journey. For me, RISE is a more thorough exploration of this challenge so we can evolve a professional practice relevant to the needs of leadership groups in all kinds of organisations.


What do you find valuable about this RISE community? How can we continue to improve the way we bring consultants together?
The RISE point of differentiation is how we work together as a community of consultants, deepening connection with one another and developing a common purpose, initially in Europe and thereafter globally. What I experience today is that people feel a sense of belonging in RISE and actively contribute to the developing logic of our community business model. I sense we are genuinely committed to our ethos of learning with and from each other, through working together. I have no doubt that the community will experiment and evolve even better ways of bringing consultants together as we grow. My job is to trust the process we advocate to our clients. So, in a way as CEO of RISE, I am my own client and for all of us involved in RISE we are are our own client case study.